Score! Emirates extends Arsenal sponsorship deal for £150m
Bosses at Arsenal football club have agreed a deal to continue Emirates shirt sponsorship until 2019 for £150m.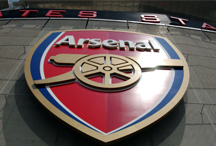 Emirates airline will retain its sponsorship rights for Arsenal football club shirts until at least 2019 according to the terms of a new deal that has been struck with the club for £150m. The deal also includes the right for the airline to retain the naming rights of 'Emirates Stadium' in north London until 2028, and will bring in a total of £30m per season for the club until the deal expires.
With such a high price tag, this sponsorship deal is one of the biggest ever seen in football, beating off other giants such as Liverpool for the amount of money it rakes in for the club. The Gunners' chief executive, Ivan Gazidis, said: 'The original deal with Emirates was a key facilitator of our move from Highbury and this next phase of our relationship will be just as critical to keep us at the top of the game in England and Europe.' The only club to have signed a bigger deal for shirt sponsorship is Manchester United, which will earn £51m per year with Chevrolet as of next season.
It's also good news for the club's coffers compared with rivals: it will now be earning three times as much as Spurs and twice as much as Real Madrid. Emirates first signed up to sponsor Arsenal back in 2004, in what was a lucrative deal, but the cost of running clubs is soaring as competition in the European arena intensifies and players' wages continue to soar. Fans will be hoping that the cash injection will be used to boost the club's league performance, as it has not won a trophy in the Premier league since 2005.