Secret Millionaire seeks frustrated entrepreneurs
A telecoms entrepreneur backs a new microfinance scheme aimed at bright sparks in disadvantaged areas.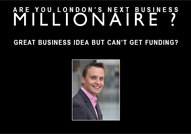 Telecoms entrepreneur Dominic List, who some of you may have seen in this week's The Secret Millionaire, is in philanthropic mode following his appearance on the Channel 4 show: he's donated 150 advertising billboards around London to publicise a new enterprise competition. Funded by the Fredericks Foundation, a microfinance charity set up by IT millionaire Paul Barry Walsh, the scheme aims to dole out loans of up to £5,000 to five entrepreneurs who have failed to secure funding via more traditional routes – perhaps because of issues like poverty, disability, long-term unemployment, or a criminal record.

The idea is that these billboards will attract the attention of frustrated entrepreneurs looking to set up a business in London, who'll then submit their ideas through the Foundation's website between now and the end of November. As appears to be compulsory these days, post Dragons Den, a panel of 'business experts' will then judge the viability of these ideas (although apparently they'll be 'rather more friendly' than the Dragons – so no Duncan Bannatyne then). The five best ones will not only get a start-up loan, but also follow-up support from The British Library's Business and IP Centre.

This is not exactly a handout; the Foundation's website cites an APR of 13.75% for a three-year loan of £5,000. But for people who can't lay their hands on start-up cash from anywhere else, it could be a great way to get a business up and running. List, who owns 'infrastructure solutions' (i.e. telecoms) firm Comtact, reckons he understands the problems that many would-be entrepreneurs face. 'I know first hand what it's like when you are starting out and struggling to gain finance,' he says. Hence, presumably, his generous donation (although since he apparently paid £17,000 at a charity auction for advertising space with a face value of £80,000, he clearly bagged himself a bargain).

Coming off the back of an appearance in a popular TV show, List's prominence in the ad (there's a big picture of him, looking benevolent) will hopefully boost publicity for a scheme that is intended to unearth 'London's next business millionaire'. Although presumably a little part of List will hope they don't end up making their money from infrastructure solutions – entrepreneurs are a competitive lot, after all...

In today's bulletin:
Unstable UK the world's top financial centre
Women don't want to work full-time
JJB Sports: the story that keeps on giving
Secret Millionaire seeks frustrated entrepreneurs
Don't write people off too soon, with YouTube