'Seek a calling' - Nike creator Phil Knight
You have to admire the Nike founder's drive, rule-breaking and determination to build the biggest sports brand in the world - but he omits the role played by the ads in his memoir Shoe Dog.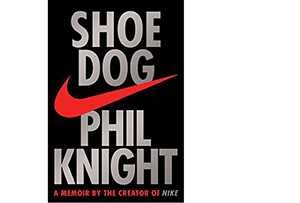 Phil Knight is the 15th richest man in the world, one of the biggest philanthropists in America, and he got rich by helping people get fitter. What's not to like about Nike?
Well, as in any business venture, there are some skeletons. And this book has its problems, too. One example is the puzzling omission of any mention of Nike's ad campaign. Through their relationship with Wieden+Kennedy, Nike's advertising changed how the world felt about sport. But you'd never know that from this book.
Reluctantly commissioning an ad in 1970, Knight says, 'I still didn't believe in the power of advertising. At all. The product, I thought, speaks for itself or it doesn't.' At the end, however, he's saying this: 'We were trying to create a brand...