Make yourself a better manager
Ever wanted to know what your team members really thought about your management style? Or felt the need to spout off on exactly why your boss is rubbish, without risking your job in the process? Well now you can, with the launch of a new online tool designed to help managers improve their skills ahead of their next performance review.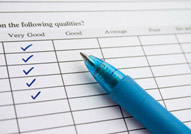 Make Me a Better Manager is an attempt by talent management company ETS to bring 360-degree feedback to the masses – according to managing director John Southwell, only 10% of the UK's 4m managers currently get access to it. Managers pay £20 to sign up to the service, and then a number of nominated colleagues are asked to feed back on the manager's skills. Two weeks later, the subject gets a report summarising the findings.
'It allows team members to feed back in a structured, confidential way,' Southwell told MT today. 'So managers get incredibly powerful, objective feedback on their strengths and weaknesses'.
ETS has already started trialling the service – with surprising results. 'The most interesting point was the disparity between managers' perceptions of themselves and other people's perception of them – often there's a big gap between the two,' Southwell said. This proves that you shouldn't be focusing your training on the areas that you think are the most important, he suggests.