Senior public sector managers 'ill-equipped' to handle cuts
Most people agree that the public sector needs trimming. But the consequences may be painful...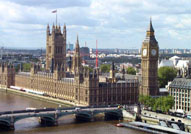 Here's some cheery news: research out today shows that junior civil servants have very little faith in their bosses' ability to handle the inevitable cuts that will be forced on them as a consequence of our public spending crackdown. Three-quarters think that senior managers aren't very well-equipped to deal with the impending chops, according to a new survey by the Institute of Leadership and Management. And with nine in 10 expecting major cuts in the next year, that's inevitably going to affect front-line services. So it's bad for them, and bad for the rest of us...

There's no doubt that senior civil servants are already under pressure – and there's worse to come. The ILM's report found that over two-thirds of public sector managers had experienced budget cuts in the past year, while almost 90% expect more in the next 12-18 months. Staff will bear the brunt, with 49% of managers anticipating a reduction in headcount and 48% predicting that training and development budgets will be slashed. And it won't just affect those forced into the dole queue; those left behind will have to deal with an increased workload and plummeting levels of morale. No surprise, then, that more than half expect quality of service to be negatively impacted too.

But at least staff have authority figures within their organisations that they can rely on during these testing times, right? Well, not exactly. 77% of managers lack faith in their senior management teams to deal with the budget cuts – and over half believe that the top brass don't even understand their teams' functions and responsibilities. This sounds a bit alarming – although Martin Horton, a director of Solace Enterprises, reckons it isn't necessarily an accurate representation. 'If you go to any meeting it's always people who aren't in the room who are the problem,' he pointed out, at the report's launch. 'It's something any level will say about any other level.' And let's be honest: people do like moaning about management (particularly civil servants).

To be fair, it wouldn't be surprising if senior civil servants aren't great at cost-cutting; after all, most have spent the last decade watching their budgets go up and up. Equally, however worrying the conclusions in this report, it's unlikely to influence policy – the Government won't exactly be able to postpone its cuts until public sector managers are in a better state of readiness. Budgets will be slashed, and it's going to happen soon. Judging by this survey, the only question is whether the damage to front-line services will be disastrous, or merely painful. Let's hope public sector bosses learn fast.

In today's bulletin:
Good call, Darling: economists back Chancellor's deficit plans
Retail sales dive - but we're still buying Kit-Kats
Senior public sector managers 'ill-equipped' to handle cuts
Could fit notes (not sick notes) save UK plc £240m?
How growing businesses can keep their personality