Serco chairman falls on his sword
Alastair Lyons announces plan to resign after internal review finds 'operational mis-steps' at Serco. Who knew?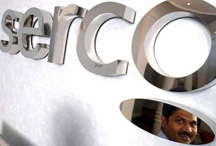 Serco's extended annus horribilis claimed yet another victim this morning. Chairman Alastair Lyons said he would resign early next year, after taking 'ultimate responsibility' for Serco's recent failings.
The decision comes after the initial findings of Serco's rather innocuous-sounding Strategy Review and Contracts and Balance Sheet Reviews (didn't the Spanish Inquisition have a name like that?) placed the blame for the company's woes on two strategic 'mis-steps': diversifying too widely and focusing too much on new contracts rather than looking after the old ones. Essentially, Serco got greedy.
The consequences have been clear. In the last year there have been lost contracts, an SFO investigation that's still ongoing despite a £68.5m settlement and profit warnings aplenty. In the latest blow, the battered outsourcing firm wrote down £1.5bn worth of assets last week, a sizeable chunk of which was to its 'goodwill', or the intangible value of its brand.