Serco shares jump 6.5% as Soames admits 'we have a lot of work to do'
Shareholders clearly have a lot of faith in Soames' ability to turn the troubled outsourcer around.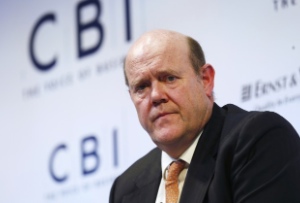 We often joke about Rupert Soames' need for a bit of his granddad's Blitz spirit, but half-year figures published by his new employer, Serco, show just how difficult things are for him: in the past six months, profit before tax fell 107% to a loss of £7.3m, from £106.1m last year, while revenue fell 4.5% to £2bn. Adjusted operating profit dropped 65.3% to £50.7m. No wonder shares have fallen 34% since the beginning of the year.
Three months into his post as chief executive at Serco, you wonder whether Soames got more than he bargained for. Alright, so he was already aware of the string of scandals, which includes over-charging the government for the tagging of criminals. But did he anticipate that, for example, the company would end up losing its £90m-a-year contract to run the DLR?
No wonder he admitted today that the company still has 'a lot of work to do', not least when it comes to winning new contracts, cutting margins and attracting and retaining staff.