Get serious about CSR, say Gen Y-ers
Companies tend to make a big song and dance about their CSR efforts - but staff aren't buying it.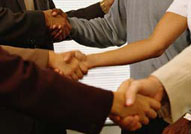 That's according to a new study by Badenoch & Clark, which claims that 83% of employees think their employer lacks proper commitment to corporate social responsibility. In fact, 28% dismissed their companies' efforts as nothing more than a box-ticking exercise. Perish the thought.

Now it wouldn't be a complete surprise if CSR has fallen off the radar recently, with more immediately pressing concerns coming to the fore instead (niggly stuff like finding the cash to cover the wage bill, that sort of thing). But employers would do well to remember the commitments they started making before everything went belly-up, because CSR policies are not just good for the conscience - they're also good for your brand, too. The recent success of the Co-op and John Lewis (which has just released its latest CSR report, we note) seems to testify to that.

What's more, CSR still makes a big difference when it comes to recruiting talented young go-getters (i.e. precisely the people you want on board when things pick up again). According to Badenoch & Clark, CSR is most important for those aged between 25 and 34: 55% of these Gen Y-ers said an employer's approach to the area would heavily sway their decision about whether to go and work for them. And it's this very group that is most sceptical of companies' efforts: some 92% of 25-34-year-olds said there was a lack of genuine commitment to CSR.

Now the cynic might argue that this is because these youngsters are less aware of the cold hard financial realities of running a business during a recession; that more experienced heads better recognise the folly of digging water holes in African villages when you should be plugging holes in your own balance sheet.

But while it's important to stay focused, and to eradicate any kind of pointless box-ticking exercises, that doesn't mean it's time to kick CSR into touch. Even it seems to you like a nice-to-have rather than an essential, your next generation of company talent may think otherwise.

In today's bulletin:
Is Britain set for its own Dubai-style debt debacle?
Greene King and Wetherspoon bring cheer to battered pub sector
Chairmen and non-execs could face annual re-election
Get serious about CSR, say Gen Y-ers
The Parent Project: Why should we care about parental rights?