Service sector bounce points to recovery - but will it last?
Activity in the UK services sector hit a two-year high last month - and financial firms are recovering too.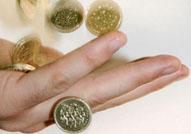 Some positive economic news today from the services sector, which is responsible for a big chunk of UK output: the Chartered Institute of Purchasing and Supply's much-watched index jumped to its highest level in two years in September, apparently a clear sign that the sector is 'really bouncing back'. With the CBI also reporting that financial firms saw business volumes increase last quarter for the first time in two years, that's almost enough to make us feel quite optimistic – were it not for the likes of Michael Geoghegan spoiling the party...

The CIPS index, which tracks the confidence of purchasing managers, jumped to 55.3 last month. Anything over 50 suggests they're expecting growth rather than contraction, so they're still not exactly brimming with belief – but this is the fifth rise in a row, and the biggest one-month jump since 2007. Apparently restaurants, hotels and B2B companies did particularly well. On the other hand, some bits of the sector (like transport and storage) are still in the doldrums – and the CIPS also warned that unemployment in the sector continues to rise, which suggests that some firms still have a problem with excess capacity.

Meanwhile the CBI (along with accountancy PwC) reports that 36% of financial firms are feeling more optimistic about the business climate than they were three months ago, while 7% said business volumes were up during the quarter (a pretty measly figure, admittedly, but still better than nothing). PwC suggested that signs of life in the housing market were offering some 'cautious cheer'. However, the overall optimism looks to have a lot to do with traders re-finding their mojo in the wake of this strange rebound in share prices, so perhaps we shouldn't read too much into it.

Taken together, today's figures do add credence to the idea that the economy might well inch out of recession this quarter. But with jobs still going and confidence still shaky, the overall picture still looks less than rosy. Many business leaders seem to think any recovery will be sluggish at best, while HBSC boss Michael Geoghegan suggested today in an interview with the FT that the economy would start shrinking again before too long (a so-called W-shaped recession). Since most economists don't seem to have a clue what will happen, we don't presume to either – although it seems pretty clear that neither the services sector nor the economy more generally are out of the woods yet.

In today's bulletin:
Service sector bounce points to recovery - but will it last?
France Telecom deputy carries the can for suicide row
Irish-style cigarette display ban could be a drag for the UK
The Sharp End: Fruit 'n' veg apprentice
MT Expert's Ten Top Tips: Leading in an age of mass collaboration