The Seven Habits of Highly Successful People - 15 years on
BUSINESS CLASSIC: 15 years and countless inferior imitations later, Stephen Covey's personal development book still stands up as a serious piece of work.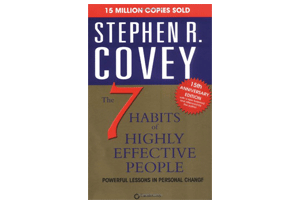 It would be unfair to blame Stephen Covey, who died three years ago aged 79, for the amazing proliferation of personal development books over the past three decades. The overloaded airport bookshelves are in a sense a tribute to the power of Covey's famous blockbuster, which has sold over 15 million copies and inspired countless inferior imitations.
Covey's book is a serious piece of work. He is really a kind of moral philosopher rather than a business guru. And he argues that character, not mere surface personality, is what matters. This is what we should work on.
His seven habits are essentially about thoughtfulness, and winning inner battles with ourselves. Some of those habits? 'Begin with the end in mind,' he says. 'Put first things first' (a crisp approach to time management). 'Think win-win,' he advises. It's a cliche, now. But partly because Covey popularised it. 'Seek to understand before you seek to be understood.' All good stuff.