Seven million Toyotas recalled over 'window glitch'
The Japanese car maker calls back 7.4 million cars after problems with electric window switches.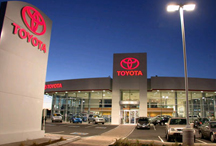 Three years after Toyota was forced to recall cars with faulty accelerator and brake pedals, the Japanese car maker is mired in quality woes again. The company is recalling 7.43 million vehicles across the world because of a faulty electric window switch, which has affected more than a dozen models produced between 2005 and 2010.

Around 140,000 cars have already been recalled in the UK and a total of 1.39 million cars in Europe will be affected. In the US, 2.47 million cars are being called back. No crashes or injuries have been reported as a result of the glitch, and admittedly it isn't in the same league as faulty pedals, but it is the largest single recall since Ford called back eight million vehicles in 1996. And it's not ideal timing for Toyota, still recovering from the 2011 devastating earthquake and tsunami which destroyed factories and disrupted supply chains.

Toyota's reputation took a battering in 2009, when sudden acceleration problems and a fault caused by floor mats sticking under the accelerator pedal were linked to some fatal accidents. Around 12 million vehicles ended up being affected, and the US regulator slapped a fine totalling a record $48.8m on the Japanese car maker for not recalling the cars quick enough when rumours of the problems first surfaced. It emerged that Toyota had begun a recall in Japan over faulty rods but waited a year before conceding US models were also affected.
The slap down was a blow for Toyota. Recalls are commonplace these days, but the world's largest car maker had boasted a reputation for pristine quality, centred around its super-lean production methods. In the aftermath, sales took a heavy knock and Toyota executives admitted the problems were partly caused by the company's overly ambitious growth goals.
Toyota has since worked hard to regain its reputation, while at the same time suffering from the impact of the economic downturn and aforementioned tsunami. Just yesterday, Toyota reported that deliveries to China, one of its biggest customers, had dropped 49% in the year to September after a territorial dispute between the two countries over the Senkaku/Diaoyu Islands. So the news that 7.5 million vehicles are now to be recalled could hardly come at a worse time.