Shareholders say Yahoo
It's been a while since shareholders of Yahoo have had anything to shout about. The one-time leader of the search engine pack has seen its market share eaten away by the Google phenomenon, leading to a steady decline in its market value.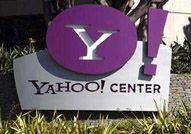 But there are signs that the worm may be turning. Yahoo's share price jumped 10% in after-market trading yesterday after the company said that its advertising business was finally showing signs of recovery. Although profits fell 5% last quarter, revenues were up 12% to $1.76bn – still small by the standards of Google (which is running more than four times as many searches) but above market expectations.
Yahoo has been working hard in recent months to stop the rot. In June co-founder Jerry Yang stepped in to run the business after former CEO Terry Semel was ousted by shareholders. It has also been implementing Project Panama, an upgrade to its advertising technology designed to make it more competitive with Google and generate more money from searches. This boosted online advertising revenues.
It has also managed to reverse the year-long decline in its display advertising business, thanks to various acquisitions and partnerships with other online firms like healthcare portal WebMD.