Shares in Ocado jump as debt is extended
Investors rallied to food delivery service Ocado on Monday morning as it announced an extension to its £100m debt facility, and plans for a £35.8m placing.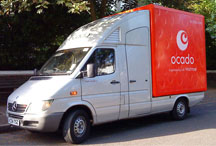 The price of shares in Ocado group jumped 22% in early trading on Monday after the online grocer revealed it has raised around £36m through a share placing, as part of a plan to fund a big expansion programme. Investors have been concerned about the health of its finances, which is presumably why it has also managed to extend its £100m debt facility. That should keep things trundling along nicely for a small while, at least.
So what have investors been getting jittery about? Well, Ocado delivers Waitrose food to customers, but has been facing competition from the supermarket chain, which runs its own home delivery service. Not only has this hit sales growth, but there has been a concerns over the firm's finances since analysts forced it to deny that it was on the brink of breaching its banking covenants.
So the new remedies are: a share placing designed to raise £35.8m, which represents almost 10% of the group's existing issued share capital; and an extension on its debt facility, which currently stands at £100m. Banks involved in extending the debt facility for a further 18 months (to July 2015) are Barclays, Lloyds and HSBC. After revealing the plans, the firm watched its share price lift almost a quarter in early trading. Chief executive Tim Steiner said this represented 'a strong endorsement from both institutional and other shareholders, and lenders who support our confidence in our business model.'