The sharing economy is about much more than making money
Alex Stephany certainly knows his subject - the rapidly expanding global market for idle assets - but there's more to it than his book allows, says Benita Matofska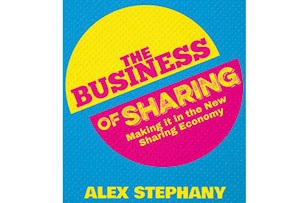 From Lyft's billion-dollar moustaches to selling empty seats on private jets, in The Business of Sharing, Just Park CEO Alex Stephany takes us on a remarkable journey through the sharing economy, from the kibbutz to Sandhill Road in Silicon Valley via an artists 'dream studio' in NYC.
But this is no airbrushed version of the sharing economy. Stephany wants the reader to experience the half-mouldy pancakes, the congealed pizza and, unfortunately, barfing in the bedroom. Even as a sharing economy evangelist, that particular accommodation offering had little appeal for me.
I'd say that The Business of Sharing is one of the most comprehensive books I've read on the subject and, believe me, I've read them all. But before I shout 'Sharetastic, Alex! You've done the sharing economy proud,' I have to point out the book's only flaw.