Sharp asks staff to buy its own products
Dwindling profits have forced the electronics giant to take radical action.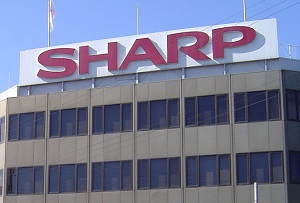 Sharp, the Japanese electricals giant, has asked staff to put up their own money as it tries to avert disaster. The company has had a difficult few years thanks to increasing competition from companies in China and Taiwan and its shares hit a 40-year low in September.
Rather than focusing on improving its strategy, brand or prices, the company is asking its staff to foot the bill for a turnaround. According to local media reports picked up by the FT, the head of Sharp's electronics division wrote to staff asking them to help 'weather this extreme difficulty' by splashing out on its products.
Execs are expected to spend Y200,000 (£1,065), middle managers will have to fork out Y100,000 and front line staff will be asked for Y50,000. In a company where the average salary is around Y600,000 per month, that's a pretty hefty chunk, and they will only get a discount of 2% on the normal sale price.