The Sharp End: Charity volunteer for a day
Dave Waller joins Age UK to take a veteran of the Second World War out for the day.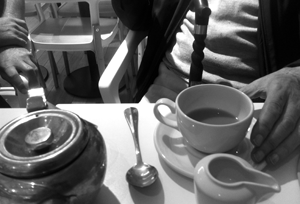 I'm a charity volunteer this month, offering my excuse for youthful vitality to 'older people' at the Kensington and Chelsea branch of Age UK. God help them.
As part of the prep, I'm sent an email detailing our visit to a Mr C, who's 86. It reads like a brief from Mission: Impossible. 'Task: Escort him by bus 70 to the Science Museum for the Alan Turing exhibition.' There's no mention of the message self-destructing in five seconds. I guess they don't want it to set off a dicky ticker.
I can think of worse ways to earn a volunteer's wage. At the area HQ, volunteer co-ordinator Martin Burke tells me they have a whopping 391 volunteers on the system, helping nearly 5,000 active members. Martin says to take that volunteer figure with a pinch of salt. 'Seventy per cent of those will be unavailable,' he says. It sounds like gym membership: people just sign up to feel better about themselves.