The Sharp End: Very fast food indeed
Dave Waller joins the world's speediest pizza-maker in Basingstoke.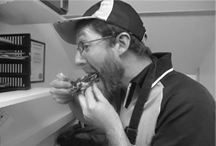 I'm off to taste a slice of life at Domino's Pizza. Let's hope the day's crust is stuffed with success, with a side order of not crashing my scooter and ending up under a topping of delivery boxes.
It's a fine day for a takeaway, if not for delivering it: out of the train window I can see a liberal coating of snow on the rooftops all the way to Basingstoke. I'm joined by Georgina Wald, Domino's PR chief, who's busy telling me how this isn't your typical franchise business.
'If you want to be a franchisee, you have to be a Dominoid,' she says. This term apparently applies to anyone happy to patrol the town in a Spiderman costume, or to share the fun of 'wobble-boarding'. I'm not sure what any of this means, but George emits the manic joy of a cult member so I'm not arguing.