The Sharp End: Fruit 'n' veg apprentice
Oliver Bennett learns how to shift the goods as he spends a day on a farmers' market stall.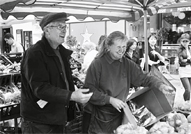 It's market day. I put on a cloth cap and set off to work. The stall is in Lyric Square, Hammersmith, a windswept plaza that must have looked cool on an architect's Mac and is now a dreary between-zone of coffee chains and lunch-hour sarnie seats.
Thursday's farmers' market is probably the best thing that ever happened to it. There are about 15 assorted stalls: Moroccan pies, Portuguese tarts, suckling pig. Pride of place is Perry Court Farm's fruit 'n' veg stall, and here I find Heidi Fermor. The farm, near Canterbury, is family-run and Heidi heads its retail operation.
I instantly know she's going to be a good guv'nor. Although she gets up at 4.30am, lugs fruit, veg and heavy awnings into a van and drives to an ugly car park costing £13 a day, all in the name of serving the rich mix of Hammersmith humanity, she remains a beaming beacon of diplomacy. Heidi's super-efficient assistant Joanna is tall, thin and inscrutable and comes from Poland. A pair of Clint Eastwood-like narrowed eyes is all she needs to communicate with even the most brazen bargain-hunter.