The Sharp End: I'm making love happen
Always the moderator, never the groom, Dave Waller mans a dating site's phones.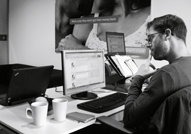 Love. It will bring us together, it will tear us apart. And, with the rise of online dating, millions are being made from it. We'd just have to spend our working lives knee-deep in come-ons and crushed hearts. Or so I think as I join match.com for a day as a customer-care assistant.
I'm no online dater. I browsed a couple of sites once but found the whole thing a chore. Much like shopping for clothes. Trying to pick a partner from pages of profiles is like riffling through racks of shirts. Only harder, because people are capable of independent thought. A new jacket won't tell you to sod off just because it caught you hanging around outside its house at 6am.
But that's just me. There are plenty of people for whom the digital Cilla provides a lorra lorra luck. Match.com reckons that 20% of newlyweds under 30 met on the internet, while Mintel claims that at any one moment, 5.2 million singles are online looking for love. Even our esteemed editor met his wife on a dating site. It's the 'new natural', says Katie Sheppard, head of relationships at match.com, when I arrive.