The Sharp End: The men in white coats
Marine officer Dave Waller dons his wellies for a visit to Brixham fish market.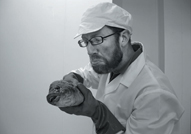 I'm in Brixham in Devon spending the day as a marine officer. These are the sheriffs of the seas, out to inspect the trawlers' catches to see if anything fishy's going on.
My host is Beshlie Pool, who explains that the team aren't allowed to live in Brixham - it doesn't make for comfy pub chat of a Friday night if you're dragging your neighbour through the courts for cheating the quotas.
So, while work starts at 5.30am, we have to be up at 4.15. This involves suckering me in with the smell of coffee, then slipping a serrated hook into my gob and wrenching me skywards as the sun warms the windows of Brixham's sleepy cottages.