The Sharp End: News from elsewhere
Dave Waller samples life as an old-school local journalist on a west country newspaper.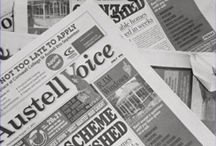 Hold the back page: the Sharp End is in Cornwall seeing how the beleaguered local newspaper industry is faring. Can people's appetite for harvest festivals, litter picks and rummage sales keep circulation up in the downturn?
My chosen rag is the St Austell Voice, circulation 6,000. I arrive at 8am on a Monday to be greeted by a team of just three: Phill, the editor, Paul, the snapper, and Gareth, the one-man sports desk.
Phill asks what leads they have. The big one is a school down the road that has suffered a flash flood, causing its drains to overflow and fill the classrooms with sewage. 'It's that or the fact we won a minor medal at South West in Bloom,' says Phill.