The Sharp End: The view from St Paul's
Dave Waller and his sleeping bag spend 24 hours in the cathedral's new tent city.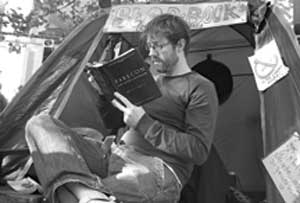 Time to don the poncho, stick unconventional objects through my earlobes and destroy capitalism, as I sample how things are run at the Occupy London protest outside St Paul's Cathedral.
The camp's already been going a week when I arrive and, walking past the cathedral's northern side, I'm plunged deep into an improvised world of elaborate hats, rollie-smoking, and the wearing of non-conformism on what is starting to become a heavily soiled sleeve.
A closer look reveals people of all ages and races, and several temporary institutions that help the camp's flow of knowledge. There's a legal tent, an information centre and a kitchen. As a bloke takes to the mic, singing Dylan-style ballads about bankers, I stumble upon the camp's library, named Starbooks after the global coffee giant it's pitched in front of. Its founder is the dreadlocked Ashley, a carer by day, who envisioned a place where like-minded people could meet and exchange ideas. And, yes, people are standing in the sun talking economic models as others read, make enquiries or donate books - everything from hefty political tomes to Jesus and His Times. That's one for the thinning ranks of the St Paul's top brass.