Shell profits while BP toils
Shell's restructuring seems to be paying off - and just at the right time.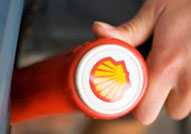 This time last year, the outlook looked very different for BP and Shell. The former seemed to be pressing ahead under admired CEO Tony Hayward, while new Shell boss Peter Voser was just launching a painful restructuring designed to address its under-performing business. But twelve months on, the tables have well and truly turned: BP is - well, you know all about BP - while Shell has just reported a near-doubling of second-quarter profit, to $4.5bn. Although it's worth noting that this is actually less than the underlying profit reported by BP this week...
Shell's quarterly profits were well up on a year ago, thanks not only to higher oil prices but also the success of Voser's pruning operation - progress on his $3.5bn cost-cutting plan, which will slash a massive 7,000 jobs, is apparently ahead of schedule (much to the City's delight, if not the unforunate 7,000). And after suffering by comparison to BP in the immediate aftermath of the recession, BP's current woes (it lost $17bn over the same period) are making Shell look all the more attractive - particularly since it's paying out a dividend again (something we won't see BP do for a while).
Its exploration and production arm did particularly well, recording profits of $3.2bn - and some major new projects have come onstream, including a big oil and gas field in Nigeria. Voser will be cheered by this, since it's an area where Shell has lagged behind the pack in recent years. And unlike new BP boss Robert Dudley, he has a bit of freedom to re-shape the business away from the spotlight - for instance, as well as the job cuts, he's also planning $8bn of asset sales.