Shell profits hit bottom of barrel
Royal Dutch Shell plans asset sales after profits sink by nearly a third to $4.5bn.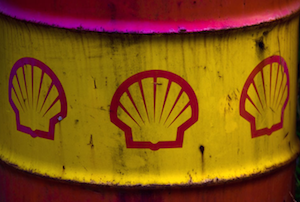 Profits at oil colossus Shell have sunk by nearly a third to $4.5bn (£2.8bn), missing analysts' expectations of $4.9bn to $5.1bn and causing a 4.8% drop in share price. The firm has put the drop down to higher costs, weakness in its refining division and lower oil and gas production.

Lower profit margins from refinery have been something of an industry wide complaint (just look at what happened at Grangemouth). French oil company Total also reported a net profit drop of 10% in its first quarter, partly down to falling refining margins. Exxon Mobil announces its results later today and MT guesses we can expect much of the same.

Problems in Nigeria have also been a thorn in Shell's side in the past quarter. Pipeline outages in the country – which the company puts down to sabotage and theft – have cost it an estimated 65,000 barrels a day and total oil and gas output was down 2% on the same quarter last year. Add to that the blockade of Shell Nigeria LNG (liquified natural gas) venture by the country's navy and you've got a $300m reduction in earnings in the country.

Shell is 'facing headwinds from weak industry refining margins, and the security situation in Nigeria,' said outgoing chief executive Peter Voser.

Voser surprised many with his decision to step down as chief at the end of this year – his replacement Ben van Beurden starts in January. Despite the poor results, Voser doesn't think he's leaving Van Beurden with a sinking ship.

'The company is rich with new investment opportunities,' he said. 'We have started up a series of new oil and gas fields in the last few months, in deep water, integrated gas, and in our longer-term plays such as Iraq.'

Sounds promising. But Voser isn't taking any chances. Taking a leaf out of BP's book, Shell will be shedding some pounds by speeding up the sale of assets – presumably music to its shareholders' ears. BP announced a $4bn rise in revenues earlier this week; a stark contrast to its peers, proving its asset weight loss plan works.