Shell shock as profit slump forces job cuts
Shell has succeeeded in making rival BP look good - by posting an even bigger third quarter profit slide.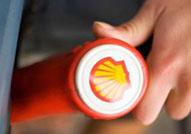 Not much to shout about for Shell today - the Anglo-Dutch oil giant reported a 73% drop in third quarter profits to $3bn, which sent its share price plummeting. Admittedly it was never likely to match the bumper numbers of last year, when oil and gas prices were at record highs - but today's figures also pale in comparison to those of BP, which surprised the City with a relatively respectable set of results on Tuesday. With new boss Peter Voser preparing to slash 5,000 jobs across the company and warning about the prospects for the coming months, it's clear that Shell isn't out of the woods yet...

Like BP, Shell has seen the falling oil price take a big chunk out of its earnings - upstream production profits plunged 82%. But unlike BP, it's been unable to ramp up production, which remained basically flat at 2.93m barrels per day, while it also suffered a fall in demand for its downstream products. Hency why BP racked up nearly $5bn in profits, and Shell managed a 'mere' $3bn. In response, Voser is planning to literally decimate Shell's non-operational divisions (and it's not often we get to use that word properly): some 5,000 staff will leave the company as part of the euphemistically named 'Transition 2009' programme.

But although Voser has managed to cut costs by $1bn relative to the same quarter last year, including slashing his senior management team from 750 to 600 (which isn't a bad effort, given that he's only been in the job four months), he doesn't seem to be that optimistic about Shell's immediate future. Although there had been some indications of improving demand, he said, it wasn't clear when the numbers would start picking up. 'The outlook remains uncertain, and we are not expecting a quick recovery,' he warned today. In other words, investors should be bracing themselves for more pain to come.

Still, there was at least one bit of good news to appease the City: despite its profit slump, Shell has boosted its dividend by 5% to 42 cents per share, which is much more than BP is currently planning to pay out. So at least it's going to out-perform its rival in one area. But we're not convinced that'll be a massive consolation, as long as it continues to lag behind in the important stuff.

In today's bulletin:
Union threatens longer postal strikes as talks collapse again
Shell shock as profit slump forces job cuts
Yves Saint Laurent tops list of wealthiest dead celebs
Editor's blog: Lemonade brews up storm State-side
Non-execs in the firing line during downturn