Shock fall in high street sales - as JJB's woes continue
A surprise fall in November retail sales brings more misery to the high street - not least for JJB Sports.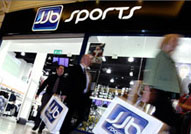 UK retail sales were down 0.3% in November, confounding predictions of a rise and suggesting that the good news stories emerging from the high street lately (like John Lewis, for example) weren't terribly representative. It's another kick in the teeth for retailers, most of whom will probably be glad to see the back of 2009. Take JJB, the sportswear retailer that's still paying the price for its struggles earlier in the year. The suppliers who deserted it when it looked on the verge of collapse are starting to trickle back, but it's still short of stock – the upshot of which is that like-for-like sales for December are down by almost a third on last year. Ouch. But perhaps we shouldn't write it off just yet…

Today's update from JJB makes pretty grim reading. Overall sales for the last 20 weeks are down by a shocking 52%, or 29% on a like-for-like basis – and investors were also dismayed to see that the upward trend in sales during August, September and October (well, we say upward; technically the decline was just getting smaller) went into reverse in December. And although JJB now looks a viable proposition financially, having paid off its borrowings and cut a deal with its landlords, stock levels are still lagging nearly 20% behind last year. Unfortunately this situation is unlikely to be resolved until early next year, so it's unsurprisingly 'cautious about Christmas and New Year' and expects trading to 'remain difficult'.

After an update like this, it's no wonder that JJB lost another 5% off its share price this morning. But although these numbers look bad, things do seem to be moving in the right direction. Stock levels are still low, but not as low as they were in August (when they were down 56%). The December comparison looks worse than it is because last year JJB had already started its sale by now (this year it's waiting until Boxing Day). And after pinching Keith Jones from DSG as its new CEO (he joins in the first quarter) it looks to have a good leadership team in place.

Whether there's a place for it on the high street in the long term remains to be seen, but investors might think that things can only get better in 2010. Unless of course last month's fall in retail sales suggests there's still worse to come. Now there's a cheery thought.

In today's bulletin:
Shock fall in high street sales - as JJB's woes continue
Thousands face Christmas chaos thanks to No-Flyglobespan
Could the 'Gulfo' supplant the dollar?
Microsoft's 'one brand of shampoo'
Punch's glass remains half empty