Shoplifting soars as we feel the downturn pinch
Is the recession turning middle-class shoppers to a life of supermarket crime? We're not buying it.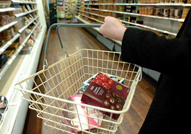 Gone are the days of schoolkids nicking penny sweets – a new breed of shoplifter is upon us, a new report claims. Shoplifting is on the rise, and according to retail security company Checkpoint Systems, thieves are more likely to help themselves to iPods, mobile phones or even fresh meat these days – proof, it argues, that the exigencies of the recession are forcing the middle-class into a life of crime. But while the figures about the increase in the value of stolen retail goods – up 20% to £5bn in the last year, apparently – are eye-catching, it seems pretty implausible to us that a whole stratum of the UK populace has suddenly gone off the rails…

The Centre for Retail Research, which carried out the report, ascribes this shoplifting surge to the rise of the 'middle-class shoplifter' – people who are stealing things purely to maintain their standard of living in the downturn. But it all sounds a bit far-fetched to us. Surely it's far more likely that these figures are due to the same shoplifters getting more organised and stealing higher-value portable goods, rather than harassed middle-class mothers who can't afford their organic corn-fed chicken on a Sunday?

Nonetheless, this report makes pretty grim reading for UK shopkeepers (of which we are a nation, of course, according to Napoleon). More stuff now gets pinched from British shops than anywhere else in Europe, and the average value of stolen goods has risen to a not-insubstantial £80. What's more, the worst culprits are a retailer's own staff: light-fingered employees accounted for more than a third of the total losses, walking off with an average of £1,595 per incident (who needs bonuses).

An increase in crime during a recession is no great surprise. But for retailers, many of whom are struggling with lower footfall, the last thing they want to be doing at the moment is seeing items disappear off the shelves or shelling out pots of cash for extra security. And it's hardly likely to persuade foreign retailers that the streets of Blighty are paved with gold – they might be better off heading to Portugal instead, where total losses were less than £300m. Plus the weather's better...

In today's bulletin:
Barclays and HSBC cash in thanks to international muscle
Imperial's Alison Cooper joins ranks of female FTSE bosses
Editor's blog: Keep Cadbury British
Shoplifting soars as we feel the downturn pinch
Charities: cancer good, religion bad