Shy away from retiring
The average male retirement age has gone up once again - but do we really have anything to moan about?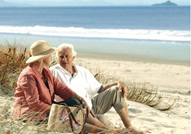 Latest figures from the Office of National Statistics (which has obviously been busy this week) show that between April and June, the average retirement age for men who have worked past 50 hit 64.6 years – the highest since records began in 1984. Meanwhile the equivalent figure for women was 61.9, another big jump from the levels of 20 years ago. It seems the enticing prospect of retirement is getting ever further away for Britain's hard-pressed credit-crunched workforce…
The news will at least please the Government, which is in the process of trying to extend the retirement age for UK workers – the state pension age for women will increase from 60 to 65 between 2010 and 2020, while for men it will rise from 65 to 68 between 2024 and 2046. (Given that the average man is still retiring before he's supposed to, perhaps they need to think about speeding this process up slightly). Today's figures suggest that these changes reflect what's already going on in the workplace.
As Britain got richer in the post-war period, most people assumed that we'd start retiring earlier, rather than working until we dropped like in days of old. And sure enough, the retirement age fell consistently between the 1950s and the 1990s. However, the depressing news for those of us who are looking forward to the days when we can sit in a rocking chair with a blanket over our legs (albeit probably worrying about fuel bills and moaning that there's nothing to watch on TV) is that the trend has clearly reversed in the last five years or so.