Silent partner on the way out
Sooty, the mischievous puppet bear and long-running star of kids' TV, is being put up for sale by owners Hit Entertainment. And he's wisely keeping quiet over how much he reckons he'll fetch.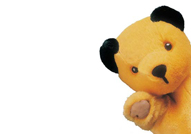 Hit bought the rights to Sooty, and his pals Soo and Sweep, from Matthew Corbett in 1996, as part of a £1.4m joint venture with Guinness Flight Venture Capital Trust. However, the value is thought to have plummeted after ITV cancelled a new Sooty series last year.
Of course, trouble had been brewing in The Sooteries, the residence of the cosy threesome, for some time. Sooty himself was the first clue. Any bear that spent that much time whispering really should never have been trusted. MT always believed if the shifty little blighter had something to say, he should have just come out and said it.
Sooty had originally cost Corbett's father Harry 7s 6d. He was sold to Corbett Jnr in 1976 for £35k. Not a bad profit, but Harry suffered a pain that will be familiar to many entrepreneurs: 'I was screaming inside,' he said of the sale. 'My mind was in absolute turmoil. I knew I ought to let go but I couldn't.'