Silver surfers are savvier shoppers
New research surprisingly suggests that the older generation are savvier online shoppers than the young...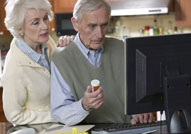 Online shoppers in the 55+ age bracket are apparently far more likely than 16-24 year-olds to use Web 2.0 resources like blogs and forums in advance of any purchases, according to web hosting firm 1&1 Internet. Its survey found that 70% of older respondents do their research online before committing to purchases, compared to just 53% of the youngsters. So either these 'silver surfers' are just more in tune with the Web 2.0 blogosphere – or they're a lot more careful with their money...
It's clear from the research that checking for online feedback is now becoming an increasingly common part of online buying decisions. Overall, about two-thirds of those questioned said they regularly check the internet for material about the specific retailer before they make a purchase, while 46% said they tried to read some kind of online review about the particular product. Indeed, we're increasingly reliant on the feedback that other users leave about previous purchases – around 40% said they routinely rely on websites' star ratings and rankings. An assiduous 24% even go to the lengths of looking for customer service commitments on the website – presumably so they can quote it chapter and verse to the call centre operator if their purchase goes pear-shaped.
The good news for those who rely on this kind of feedback is that it's becoming a lot more common. According to 1&1, one in three of us is now perfectly happy to leave a review of a site or product after we make a purchase, whereas only one in five can be bothered writing a letter (although statistically, people still prefer the more old-fashioned approach of actually speaking to people about their experiences). And interestingly, this is probably good news for smaller retailers, at a time when they've never needed it more: now that it's so easy for people to get feedback on the most unfamiliar of sellers, they're more likely to trust them with their money. Well, as long as the feedback's good.