Simple ways for IT directors to save money
"IT equipment may only use up 1% of the world's energy," said Gordon Graylish, Intel's vice-president EMEA, at a discussion on energy efficiency hosted by Intel on 21 November in London, "but it is still very significant."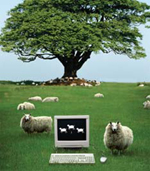 Companies and consumers can make big savings in very simple ways such as by ensuring that their computers are switched off when not in use, he said. A new measure for judging the energy efficiency of IT equipment is being developed, the panelists said.
Catriona McAlister, senior consultant, AEA Energy and Environment, recommended that CIOs look at the 'energy star' measure (its website, she said, provides a guide on how to save energy and will be measuring equipment by its 'stand by' and 'on idle' modes and not just its 'sleep mode'. The website can be accessed at: http://www.energystar.gov/). A power management system, which automatically puts machines into sleep mode when not in use, can save as much as 40% of energy use, she said.
Karl Deacon, vice-president and outsourcing chief technology officer for CapGemini said that there were ways to ensure that servers and data-centres become more energy efficient in the future. For instance, you don't need to 'encase' machines in data centres to protect them from dirt, as they are now always housed in clean environments. This in itself can help to prevent the problem of overheating in data centres, which normally leads to a huge energy cost in powering air-conditioning units.
Graylish said: "It's in the interests of business to find ways to manage energy more efficiently." Obviously, there will be fewer new markets for IT equipment manufacturers like Intel to sell to if company energy costs become too high. There is also a moral justification for promoting greener credentials.
"At Intel in the last three years we have saved the equivalent energy it would take to heat 50,000 households," Graylish said. "It is an issue for me as a human," said Deacon. "My seven-year-old daughter brought me to tears when she talked about the problem of deforestation. She is worried about the future of the planet for her children."
There are ways, both Graylish and Deacon said, for companies to monitor problems in their systems that need immediate attention whilst computers are in off-mode. This in itself can save a huge amount of energy. Deacon also said that 'granularisation' (in which computer components can be replaced or updated, rather than having to supply a whole new machine) offers potentially huge energy efficiencies, though he accepts it is in its early stages of development and presents a big challenge for the manufacturers.
Meanwhile, Everex Systems has come up with what it claims to be the world's most energy-efficient laptop, the StepNote NC1500. Its C7-M processor (made in Taiwan) uses only 12W of power, which is 43% less than an Intel Pentium chip running at the same speed, reports the Financial Times. The hard drive spins at 4,200 rpm against the more usual 5,400 rpm.
By Morice Mendoza