The single best way to stop people throwing sickies
One word: 'paperwork', says Caroline Wood.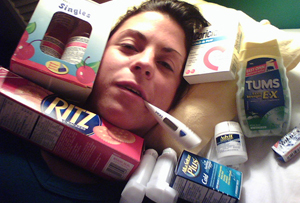 On Tuesday the Office for National Statistics published its latest annual report on sick days taken by UK workers, imaginatively titled Sickness Absence in the Labour Market.

The good news is that the number of sick days taken in 2013 relative to 1993 has fallen by a whopping 47 million. The bad news is that the UK is still losing 131 million days a year to sickness, with minor illnesses, back, neck and muscle pain the biggest reasons for absenteeism.

But while we're moving (or rather hopping) in the right direction, sickies are still seriously expensive.

My strategy for dealing with regular 'sick notes'? Bore them to death with excessive admin and paperwork. There's no doubt that if you put in place a host of excruciatingly dull administrative procedures and processes, you'll find they will never want to take another day off.

Here are three things you can do immediately to reduce the number of sickies at work.
Make sure your sick policy has trigger points stated very clearly within it. For example, it's perfectly reasonable to say that if an employee has three instances of absence due to illness in a rolling 3-month period, this will trigger a meeting to discuss what's been wrong and if there are any underlying problems. The term 'trigger point' in itself – the horror! – will save you countless sick days.
Each time one of your employees is ill, be ridiculously anal and make sure they provide you with either a self-certification form (if they are sick for seven days or less) or a Fit Note (the new, more PC version of the Doctor's 'Sick Note' of old). In a nutshell, be the person you have never wanted to be – and then some.
When a member of staff comes back to work, hold a back-to-work interview. This will really freak them out. Chat through what has been wrong and make sure they are ready to return to work. Also complete a back-to-work interview form, which both parties sign to say they agree with the contents and any resulting actions. The hassle and embarrassment of going through this process is likely to cut sickness-related absence in half, especially for those employees that are trying to blag you.
That's it: follow the simple steps above and you'll double your firm's productivity overnight.
Key sickie facts from the ONS
131 million days were lost due to sickness absences in the UK in 2013, down from 178 million days in 1993.
Minor illnesses were the most common reason given for sickness absence but more days were lost to back, neck and muscle pain than any other cause.
Sickness absence rates have fallen for both men and women since 1993, with men consistently having a lower sickness absence rate than women.
The self-employed are less likely than employees to have a spell of sickness.
The largest workforces report highest sickness levels
Londoners throw the fewest sickies, as do managers, directors and senior officials

- Caroline Wood is the co-founder of HR Heroes