'Sir Alex Ferguson is a man of fierce intellect'
AUTHOR Q&A: The former Man U football coach on what we can learn from one of Britain's great managers.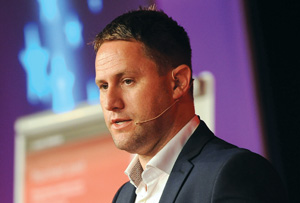 What made you write this book?
Football is a great example of an industry where change is both fast and unforgiving. Football managers last, on average, just 16 months. Shockingly, 55% of managers who are dismissed will never work in this capacity again. Before he retired, Ferguson had outlasted 13 Manchester City managers. I wanted to look at what we could learn from a man who had been at the apex of his profession for more than 30 years.
What was it like working alongside Fergie?
I started my career at Manchester United in a youth football coaching role. I never worked directly with Sir Alex, but I was aware of the influence he had in shaping the culture and mindset of his club. As the club's former chief executive David Gill put it: 'Steve Jobs was Apple; Sir Alex Ferguson is Manchester United.'
Tell us one thing we didn't know about him.
Ferguson is a natural storyteller. He has an outstanding memory for the smallest pieces of information. He is a man of fierce intellect with an impressively high IQ and an astute appreciation of what makes other people tick.