Sir David Varney: If I had to start again...
I was at Shell for 28 years, but I wouldn't go back to the energy industry. I've sucked as much juice out of that as I can...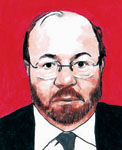 I'd look now at the industry that's emerging around quality of life. There's so much research at the moment on medical technology and lifestyle choices - such businesses are specialised, but that industry will soon be opening up... I retired from the Civil Service in January, having set up the merger between HM Customs and the Inland Revenue. My first thought on seeing the scale of that project had been: 'Help!' I'd wanted to make it a model for mergers in the public sector - we achieved groundbreaking results. Working with senior ministers was fascinating: I'd be obsessed with some aspect of revenue and customs, but the chancellor would be more worried about war and peace and the state of the nation. I have still got a couple of non-executive commitments there, but other than those I'm free. Something always comes out of the blue - last time, after leaving BG, it was a call from Christopher Bland at BT about creating O2.
I enjoyed that immensely - we took the old BT Cellnet, an industry laggard, and made it an industry leader. We signed deals with Arsenal, who then won the league, and the England rugby team, and got O2 on the sports pages every Sunday. Coach Clive Woodward always talked about doing a hundred things a little better, rather than one thing perfectly, and that philosophy rubbed off on me. I was similarly influenced at Shell, running its sponsorship of Formula 1's McLaren team, with Ayrton Senna driving. It struck me that it was their continual dissatisfaction with the status quo that won them the championship.
At Shell, I heard a lot of talk of career planning, but I had joined less for a career than for adventure. The only question I asked on reaching a crossroads was: 'When I'm in my dotage, is this something I want to remember doing?'