Sir Nigel Rudd
Qualifying early as an accountant, he was a corporate trouble-shooter at 24 and soon acquiring ailing businesses, building up conglomerate Williams Holdings only to dismantle it later. As chair of big names like Pilkington, Pendragon and Boots, he has pulled off big-ticket deals…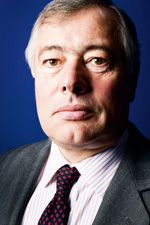 There's no doubting who the business­person of the hour is. In rapid fashion, Sir Nigel Rudd has sold off two of the companies he chaired - Boots and Pilkington; he has led another - Pendragon - to a merger; and at a fourth, where he's deputy chair, he's been closely involved in the biggest banking takeover in British history: of ABN Amro. On each occasion, he has made it his duty to extract the best possible terms, playing a high-wire negotiation game and usually winning. He has become Britain's corporate super-salesperson.
Years ago, I went to meet Rudd. He was boss of Williams Holdings, then one of the fastest-growing businesses in the country, and he was a coming business star. Friendly but edgy, he sat me down, then reached into his pocket and pulled out a piece of paper. He said it was from his PR agency, and it was all about me. The final line, he said, was: 'Be careful'.
He looked at me, laughed, crumpled it up and threw it in the bin. 'Now, what do you want to know?' he asked. It was quite brilliant - disarming yet putting me on notice at the same time.