Sir Philip and his greenbacks
Oh, the life of the loaded. Sir Philip Green has once again decided against taking a dividend out of his BHS Group, saying he didn't need any more money. 'I haven't spent the last lot yet,' he said. Clearly Green, a famous resident non-domicile, won't be quaking in his boots if the tax plans to slash the earnings of the super-rich ever go ahead.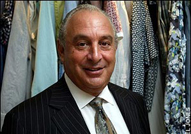 Green is clearly experiencing one of the main quandaries common to men of his means – what to do with all the cash you earn. The billionaire entrepreneur, who famously paid his family a £1.2bn dividend in October 2005, said he preferred to reinvest in the business than take the money himself.

Green is apparently experiencing as much pressure on his time as on his purse strings. Hence he is now 'interviewing a few people' for the role of chief exec at BHS, to help ease his workload. Let's hope the candidates had their eye on events at Green's Topshop this summer, when joint MD Karyn Fenn stepped down over her boss's penchant for interference – only 10 months after she took over from Jane Shepherdson, who herself jumped ship for similar reasons.
Sir Philip said BHS has seen 'very encouraging' results from the overhaul of 13 stores so far, with sales 12% ahead of the rest of the 100-strong chain. Good news for the high street, and his new chief exec. Still, the lucky candidate may need to be someone with either very thick skin or a fondness for the phrase 'Yes, sir'.