Sky sheds betting arm as it tools up for fight with BT
The broadcasting giant sold an 80% stake in Sky Bet to CVC.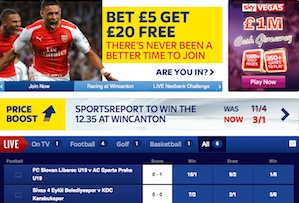 Sky has a new pile of cash to add to its war chest today after it offloaded an 80% stake in its gambling arm, Sky Bet, to the private equity firm CVC Capital Partners. In return it will receive £600m in cash on completion and up to a further £120m depending on future performance, valuing the company at approximately £800m.
Sky will retain the remaining 20% and a presence on the board, and Sky Bet's current management team including its managing director, Richard Flint, will remain in place at its Leeds headquarters.
'In the last ten years, we have successfully grown Sky Bet from a startup to one of the leading online betting and gaming companies in the UK,' said Sky's chief executive Jeremy Darroch. 'This transaction will allow us to focus further on the substantial growth opportunities in our core international pay TV business while realising significant value for our shareholders.'