Sky's profits are soaring despite BT's onslaught
The media and telecoms giant is booming, but the war isn't over yet.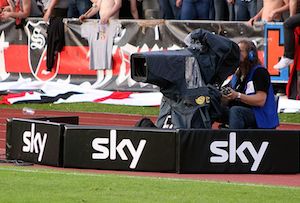 Sky's lawn is so covered with BT-branded tanks there's barely an inch of spare turf to be seen. After nabbing the TV rights to a tranche of Premier League games, the former state monopoly has also landed the entirety of the Champions League and even the next Ashes series, which was yet another big jewel in Sky's crown.
But If BT's charge has harmed Sky, it certainly hasn't fed through to the broadcaster's financials yet. In the three months to September 30 its revenues were up 6% to around £2.8bn and operating profit rose by 10% to £375m.
'This performance was driven by strong demand across the group,' said Sky's chief exec Jeremy Darroch. 'We added over 130,000 new customers in the quarter, up 7% on the previous year, which means that we've added almost a million new customers over the past twelve months, up 51% year on year.'