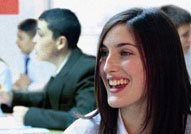 Slogan Doctor: Teacher Training Agency - 'Use your head. Teach'
The Teacher Training Agency has to find recruits for the teaching profession. Barely a day passes without a new horror story from the blackboard jungle (not that there are blackboards) or the chalkface (nor chalk). And the disgruntled teachers, ex-teachers and would-be ex-teachers add to the flood of negativity. To counter that, the TTA employs a deceptively simple line, devised by McCann Erickson in Manchester. It was first used as part of a 2003 TV campaign in which headless people walk through their mundane lives to the tune of 'Hi-ho, hi-ho' from Snow White and the Seven Dwarfs. Only one character kept his head: a teacher in a class full of children. The ads changed, but the slogan thrives in print and posters. That first phrase instructs you both to 'think' and to 'put your intelligence to good use', making an emotional appeal to those who are doing well but feel intellectually under-stretched. Going into a profession with low pay and morale may not be rational, but we're not wholly rational beings.
Published: 03 Sep 2007
Last Updated: 31 Aug 2010
Find this article useful?
Get more great articles like this in your inbox every lunchtime