Sloping off for the winter
Some good news for winter sports fans: heavy snow has allowed lots of ski resorts to open early...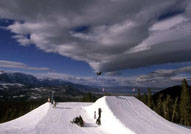 We haven't had much to shout about this year – with the economy imploding all around us, we haven't even had any decent weather to console us. But it turns that every cloud has a silver lining, so to speak: it's been snowing so hard in North America and Europe that all the ski resorts are opening their slopes weeks earlier than usual. So all those stressed execs might want to think about a nice relaxing skiing holiday – assuming they can still afford it…
'The west coast of America has received some significant snowfalls recently and it looks like mid-winter rather than autumn in many resorts,' a spokesman for the Ski Club of Great Britain told the Telegraph. Apparently the Mammoth resort in California has opened 10 days earlier than usual, while Snowbird in Utah has enjoyed its second earliest start to a season ever.
Thankfully, Europe isn't too far behind. The Telegraph excitedly reports that Geilo in Norway has opened three weeks early (with a 50cm base, if this means anything to you). Reuters says that the highest Alpine resorts, like Zermatt and Verbier, are already open for business. And with more big snowstorms expected over the weekend, there should be a few more skiers and snowboarders celebrating in Austria, Hungary and Switzerland by this time next week.