The slow death of print
Rumours of the newspaper industry's demise have not been exaggerated - and the Independent will not be the last to disappear.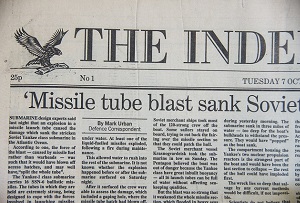 People have been talking about the end of print journalism ever since the first intrepid web 1.0 bloggers plugged in their modems and starting writing (SEO) headlines. Circulations have been in steep decline since at least the late 90s. But somehow the papers are still sitting there on the newsstands, evolving to endure their ever harsher conditions like microbes clinging to life inside a deep sea volcanic vent.
There's only so long you can resist the market tides, however. For a long time the weakest of the dailies, the Independent will publish its last print issue on Saturday 26 March (it remains online), having sold its more successful spin-off the i to Johnston Press for £24m. At the same time, News Group Newspapers, which produces the Sun and the Sun on Sunday, just published accounts showing a £253m loss for 2015 – in large measure because of a £204m write down of its brand and goodwill valuations.
And why not? The Sun's daily circulation is currently around 1.7 million. As recently as 2010, it was three million. There aren't many industries that have experienced a collapse in volumes of that magnitude as a result of digital disruption.