'Slow lane' transport spending puts UK in jam
The UK is lagging behind when it comes to transport investment, the British Chambers of Commerce argues.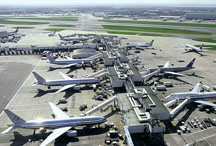 Britain's roads and rails are the bugbear of many commuters. But according to the British Chambers of Commerce, it's not just wasted time we should be worrying about. The tightening of money spent on improving Britain's rail and road networks is leaving the UK behind our European neighbours and costing us billions of pounds in lost income, the business organisation warns.

The warning comes as the BCC updates on recommendations it made two years ago on infrastructure. Ahead of the general election in 2010, the BCC identified 13 key transport improvements, costing around £30bn. But the BCC says just three have been commissioned. A further two have some funding committed but the majority have been cancelled or delayed.
The three projects going ahead are:
· Birmingham Motorway Box: introducing new methods to allow variable speed limits and use of the hard shoulder at peak times on the M5, M6, M40 and M42, with work due to be completed in spring 2014;