Smart Finance: The clever money lies with the CFO
Modern CFOs do far more than keep a lid on costs, they play an increasingly strategic part in helping firms to grow and prosper. Here we discuss the changing nature of the role.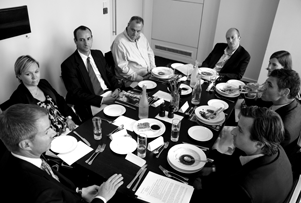 In association with Barclaycard, MT sat down with a panel of experts to debate the current challenges facing finance. On the Smart Finance panel was Harold van den Broek, senior VP finance, global supply chain, Unilever; Russell Lloyd, the FD of design agency Seymour Powell; Divinia Knowles, the COO of online gaming company Mind Candy; Dennis Bauer, MD of global commercial payments at Barclaycard; Marcus Boyle, head of finance transformation at Deloitte; Elena Shishkina, CFO, SAP UK and Ireland; Dominique Yates, CFO of office provider Regus; and Andrew Saunders, MT's deputy editor.
Andrew Saunders The perennial theme of our times is how to do more with less, which seems to have been top of the agenda for most people for the past few years. In particular, how is the role of the CFO and finance department changing in helping an organisation do more with less? A lot of companies are cutting costs and boosting efficiencies, but can that go on forever?