SME bosses burn the midnight oil
Britain's bosses are being forced to work pretty hard to stay afloat - and without huge rewards...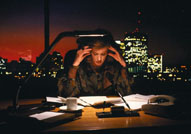 New research out today from the IoD shows that the top dogs in the UK's SME community are working harder than ever, as they try to steer their companies through the downturn. More than two-thirds are working at least a 46-hour week, while 26% are working more than 55 hours. Both in small and medium-sized companies, directors say that they're putting in more hours this year than they did in 2007. They're also taking less holiday – a mere 13% said they'd taken 30 days off this year.
Given that the average UK employee works a 37-hour week, it's clear that most bosses are really putting the hours in at the moment. This is 'a measure of the drive and commitment of directors in this country,' according to the IoD's Miles Templeman, who added: 'Many directors are doing 48% more work each week than the average full-time UK employee. As the downturn bites we can expect to see directors working even harder to keep their businesses afloat.'
And they can't be doing it purely for the money. The IoD found that MDs at small companies got a below-inflation pay rise of 3.5% last year, and are now earning an average of £65,000 a year. By our calculations, that means someone doing a 60-hour week is on about £20 a hour - so they'd be better off being a plumber or a car mechanic. Or, as the IoD points out, a GP – although after the huge pay rises doctors have been awarded under the present government, pretty much everyone earns less than GPs these days...