SMEs cry foul as watchdog loses its teeth
More red tape and the demise of Energywatch have made this a bad week for small businesses...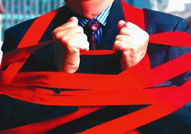 If it wasn't bad enough that this week saw another Common Commencement Date, which marks the Government's latest round of new red tape, it's also seen the last of watchdog Energywatch, which has been helping small business take the fight to big energy companies over fuel bills. At a time when money is tight and the UK economy is seemingly in meltdown, that's the last thing SMEs need.
Energywatch is being merged with the National Consumer Council and Postwatch to form a new consumer champion called Customer Focus – and lots of SMEs aren't happy about losing their dedicated watchdog. The Forum of Private Businesses cites two of its members that have been relying on Energywatch in their battle against energy giants E.ON and EDF, who miscalculated their bills and are now trying to claim six years of back-dated charges (which they're not allowed to do for domestic customers). Although the new rules do have special provisions for very small businesses, many SMEs will now have to take up their complaint with the energy company directly. That's always a big ask (and there's now less compensation available if they win).
The Federation of Small Business is also aggrieved, arguing that Customer Focus 'only offers a limited service to small firms' – and most of its potential users don't even know about it. The FSB reckons over half of its members have made complaints to their energy companies – and it argues that in the current climate, SMEs should be getting more protection, not less. 'Small businesses are already under particular strain in a volatile energy market and this is coupled with unclear pricing policies and poor standards of service,' says the FSB's John Holbrow.