SMEs demand end to Bombsite Britain
Small companies are backing a new effort to bring back tax relief on empty commercial property...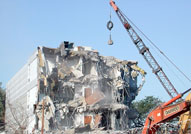 In April, the Government scrapped the business rate relief on empty properties, which has led to a big hike in tax bills for companies that aren't using all their space. The abolition of the tax relief also means it's no longer financially viable to develop properties speculatively, either for residential tenants or retail space – which is hardly ideal when the economy is slowing and the housing market is in the toilet. In fact, empty property has become so expensive that some companies are having it demolished to save cash – hence its tag as the 'Bombsite Britain' tax.
And it's not just small companies that are suffering. A new campaign backed by the British Property Federation has received support from across the board – from property companies like Land Securities, to heavyweights like Tesco and McDonalds, to urban regeneration charities, to opposition politicians. They've all put their names to an open letter to the Government, which argues that the tax is having a 'crippling effect on the economy', 'hampering regeneration by preventing development' and 'will have a damaging effect on pension fund holdings in property'.
This tax is dubious enough in principle, since the companies concerned aren't actually making any money from this empty property – shadow business minister Alan Duncan thinks it's 'immoral', insisting that 'taxing something that generates no revenue does enormous damage'. But it's going to be particularly damaging if the next year proves to be as tough as everyone expects: many small business will sensibly be looking to cut costs (perhaps by reducing headcount) – but if they end with property that's unused but under lease, they'll be hit with painful tax bills that they probably won't be able to afford to pay.