SMEs can expect good news from PBR
Monday's pre-Budget report could see the Government step into the role banks are refusing to play.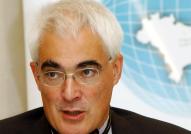 All the signs suggest that Monday's Pre-Budget Report ought to contain some good news for small businesses, who continue to have trouble getting access to finance. As the Government becomes increasingly exasperated with the big banks' refusal to play ball over SME lending, it appears to be considering various options to force the issue – or it could even step into the breach itself. Either way, it ought to make it a bit easier for small firms to finally get their hands on some much-needed cash…
There certainly seems to be a growing irritation in Whitehall that the banks are not funnelling their newly-received pots of public cash in the direction of small businesses. 'Alistair Darling is increasingly exasperated by the banks' assurances that they are helping small businesses when they obviously are not,' a source told the Telegraph today. 'There are too many instances where the banks have failed small businesses, even those with perfectly good track records'. This morning John McFall, the chairman of the Treasury Select Committee, has also been on the warpath. 'We need to find ways to make banks loosen the purse strings,' he said. He wants offenders to be named or shamed – and if that doesn't work, the government should just go the whole hog and nationalise them completely.
In the short term, we're likely to see some more support measures in Monday's PBR. One option on the table is an extension of the Small Firms Loans Guarantee scheme, where the taxpayer guarantees 75% of the loan. This could be increased from last year's £6bn total – or the Government could even bear more of the risk. It may also target credit insurance – as big companies hit the buffers, insurers are refusing to protect their suppliers against the possibility of them defaulting on payments, which means a serious increase in risk for lots of small companies. And if banks continue to drag their heels, there's even talk of legislation that would forcibly bring down their interest rates.