SMEs turning blue despite Mandy's red-tape delay
Business salutes Lord Mandelson's delay to new rules around agency workers - but it's already turning towards the Tories.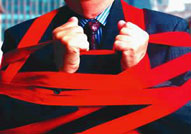 The business secretary has fought to delay the introduction of the European Union agency workers directive until the latest possible date. The directive, which entitles temps to full employment rights, including equal pay, after 12 weeks in a workplace, will now not come in till October 2011. Mandelson's aim? To ease the burden of regulations that are costing business £3.5bn a year. Not a nice outlay when you've got a recession to deal with.