Smile like you mean it
If you've never seen a valued member of your team banging their head repeatedly on their desk, count yourself lucky. But that doesn't mean your organisation is immune to the effects of stress in the workplace.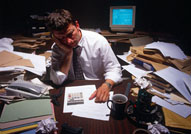 After all, stress is not only a danger to your office furniture – it's also bad for productivity. Mental health charity Mind reckons one in five of us suffers from depression or anxiety because of work-related stress. As a result, some 40m working days are lost to stress-related illnesses every year in the UK, at a cost of more than £1.5bn.
One easy answer, says the International Stress Management Association, is to be more like Ewan McGregor. No, that doesn't mean gallivanting off to another continent for a tedious motorbike-based travelogue, or butchering an Alec Guinness impression for huge sums of cash – it's about replicating his jovial grin.
As part of a new campaign called Smile Stress Away, the ISMA has finally asked the burning question: who has Britain's favourite celebrity smile? McGregor came top of the male list, closely followed by Ronan Keating and Donny Osmond (suggesting some methodological crossover with a 'Most Punchable Celebrity' survey carried out by MT this afternoon). Julia Roberts and Kylie Minogue were the (far more sensible) choices as top female smilers.