Smiley happy people
Surveys on top celebrity smiles are like London buses – you wait for one for years and then two come along at once. But what exactly has George Clooney got to do with you getting ahead at work?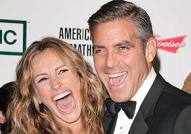 Just weeks after the International Stress Management Association crowned Ewan McGregor and Julia Roberts as monarchs of the grin, The British Academy of Cosmetic Dentistry has jumped on the bandwagon. According to its survey, Kylie Minogue pipped Julia to the ladies' title, while old smoothie Clooney cleaned up in the men's section.
The BACD also asked respondents how they felt about their smiles. Apparently, 32% said they were 'concerned by the look of their teeth', while nearly 20% 'usually conceal their teeth in photos'. In fact, a mere 25% said they were completely happy with the way their smile looked (for obvious methodological reasons, we're hoping this was a random sample, rather than a group of people in the waiting room of cosmetic dentists).
Now this may seem like a mere trifle for an organ that typically concerns itself with far weightier issues of management and strategy. But believe it or not, our dissatisfaction with our smiles could well be restricting our business success. Research has shown that attractive people do better at work – and people are more attractive when they smile. So if three-quarters of us are going round with our lips pursed, it's no wonder we're not getting that promotion.